This is the fourth in a series of 5 posts where I share my favorite books in different categories, including: favorite sci-fi series, favorite novel, favorite memoir,  favorite self-help, and favorite nonfiction. You Are A Badass is my favorite self-help book.
This post includes affiliate links. I may, at no cost to you, earn a small commission when you make a purchase.
If you have ever struggled with having confidence, living a life free of fear, and believing in yourself, You Are a Badass is a must-read. Jen Sincero highlights her journey of self-discovery, and leads the way for you to make similar changes in your life.
Background Story
Those of you who have been following my blog for a while know that I started out as an online course creator. With my background and expertise in education, it seemed to make sense. But the truth is that I didn't really enjoy it…so I didn't put as much effort into it as I could have. However, I had been doing it for long enough that many people knew me as the online course expert, and I didn't know how to change.
The First Hint of Change
Last February, I attended a meditation retreat, and that sowed the seeds of change. With the calmness surrounding me, I often have much more clarity about myself and my purpose than I do in my everyday life.
On the last day, a group of us were discussing what we would do if we could take one of our hobbies and make it a full-time job. One woman said that she would knit full-time, another one said that she would travel with her band. My answer? I would read.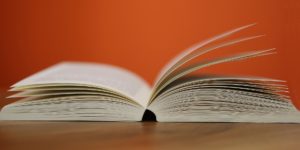 After the retreat, that thought percolated in my mind. How could I get paid to read? Well, I could be a book editor. I'm a decent writer, and I teach English, so I'm familiar with all the ridiculous grammar rules…but who would take me seriously? Sure, I had edited books for friends as far back as high school, but that didn't really count.
The Dating Scene
A few months later, I began dating again after my divorce. I used OKCupid to meet people…and found that the majority of people who I wanted to meet were writers, in some capacity or another. This was yet another sign.
I stayed on the site until I met Matt, who, of course, was a writer. And not just a writer, but a published writer. We started seeing each other more and more, and it wasn't long before I was head over heels (and I still am…but that's another story).
Matt's Book
Being a writer, Matt was writing a book. I mentioned to him that I was interested in book editing, and offered to help him with the book. He took me up on it, and after a few sessions of editing, commented that I was really good at it.
I continued to help Matt with his book, and at this point the signs were pretty clear. Not only did I want to be a book editor, but I was pretty damn good at it. Matt's not the kind of guy who will say something that isn't true just to make someone feel good (I will never ask him "Do these pants make me look fat?" unless I want the truth), and I trust his opinion.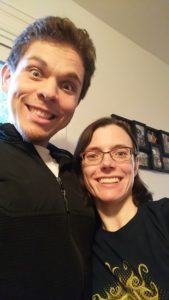 But I was still scared. I wanted to make the leap, but I didn't know how. How would I find clients? How would I establish my authority in a completely different niche than what I was doing? But I knew I needed to make a change.
How
You Are a Badass
Changed My Life
In August, six months after this series of events was set in motion, I picked up You Are a Badass.
As I read through the book, I realized that my Ego (what Jen calls "The Big Snooze") was getting in the way of what I really wanted. I was letting fear control my life, believing that I wasn't good enough, and pretending that I was comfortable where I was.
My "higher self," the part of myself that was tuned in to the Universe and living in the present, knew what needed to happen. I needed to make the shift, in spite of my fear. If I didn't, I would end up regretting it. But I still didn't know how I was going to make it happen.
Then I read Chapter 11. This particular quote jumped out at me:
"When you take the leap and believe in the not-yet-seen, you aren't supposed to know how to make it happen, because if you knew how, you probably would have done it already. This is about radically changing your reality, so the way to go about it is also most likely outside of your present awareness."
Making the Leap
Suddenly everything clicked. All I needed to do was jump in, and commit to the change I wanted to make. Overnight, I changed my website and social media, made an announcement on my Facebook page, and now I was a book editor. But how would I get clients?
I thought it would take time to build up authority and establish myself. But instead, because I was in tune with the Universe and the higher source energy that was pushing me to make the change, something unexpected happened.
The very next day – less than 24 hours after making this shift – I received an email. The subject line read "In search of an editor – could you be the one?" Within two days, I had my first client. And this wasn't just any client. Amanda was the very definition of my ideal client. She was writing a book called Happiness Rescue, in which she used her own experience to show others how to escape from the trap of depression.
So not only was I getting paid to do what I loved, I was also paying it forward by helping someone help others. What You Are a Badass did for me, Happiness Rescue will do for others. Within two months, we completed the project, and Amanda is now a published author!
Want to change your life?
Read You Are a Badass. But don't just read it. Go through it slowly, complete the exercises, write down your answers to the questions that Jen asks. If all I had done was read it, my response would be, "Yeah, right, so I just make the shift and then I magically get clients? That doesn't happen in real life."
But because I worked through it, and because I started to believe in myself, it DID happen for me. I'm not promising that you'll immediately get clients by reading this book, but if you read it and implement it, there will be a change for the better in your life.
Now that I've been doing this for several months, I've edited 4 books, and I'm still in the process of editing Matt's book (it will be out sometime in 2019). I also am a Storytelling Mentor/writing coach, and I am working with 3 people right now to help them write their books. I have never been as busy with online courses as I am now as a book editor. This change was right for me, and I am incredibly grateful to Jen Sincero for sharing her wisdom and pushing me to make the change.
Links
Happiness Rescue by Amanda Stark
Darker Truths by Matthew McKeague (Matt's first book. It's rhyming poetry, like Dr. Seuss, only more depressing and with bigger words.)
My Favorite Books, Part 1: My Favorite Sci-Fi Series
My Favorite Books, Part 2: My Favorite Memoir