If you need help with your online course, you're in the right place! Course Consulting is my most popular service, and I also offer assistance with Course Content Creation, Course Editing, and Course Setup and Management.
I help entrepreneurs in all stages of course creation, from planning your course to creating content to course marketing.
My services include:
Course Consulting
My most popular service! I will work with you to develop your course. I can help you when you get stuck, provide motivation when you need it, and give you solid strategies for planning, creating, and selling your course. I will check in with you regularly to ensure course progress. I offer 1-hour sessions, or hourly packages to meet your specific needs.
Course Consulting Rates and Packages:
1 hour: $75
5 hour package: $350 (save $25)
10 hour package: $675 (save $75)
Course Content Creation
Do you want to create an online course from the content you've already created? I will re-purpose your blog posts, e-books, and other content into an amazing course! I can write video scripts for you, along with Powerpoint presentations, worksheets, a lead magnet, and other course materials. Due to the time-intensive nature of this service, I can only offer 2 Content Creation packages per month. Content Creation packages start at $1000. Contact me directly for a custom quote!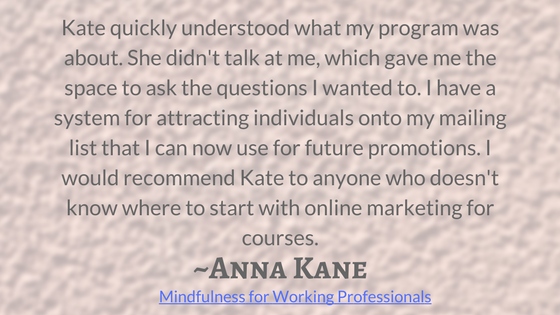 Course Content Editing
You've created your course, but you need a second set of eyes to make sure that the content is complete and easy to understand. I'll review your course materials, including videos, audio recordings, worksheets, and more. Then you'll receive a detailed report with comments on what works well, what you can change, and why the changes are recommended. You can purchase an hourly package (see rates below) or contact me directly for a custom quote.
Course Setup and Management
Do you need help with the technical aspect of running an online course? I have experience with all of the major course platforms, including Teachable, Thinkific, and Kajabi, plus experience developing courses in WordPress. Let me handle the technical details so you can focus on serving your students!
Course Editing, Setup, and Management Rates:
1 hour: $60
5 hours: $275 (save $25)
10 hours: $550 (save $50)
20 hours:  $1075 (save $125)
Tutoring
Kate also offers tutoring in a variety of subjects. Learn more here.